Wildlife on Scotland's East Coast
Scotland is home to an extraordinary variety of wildlife. If you're visiting Scotland's east coast then here are three wildlife attractions that offer the very best wildlife experiences.
The Camperdown Wildlife Centre
Set in the Camperdown Country Park near Dundee, the wildlife centre is home to an exciting array of animals from all over the world. The European brown bears and the rare golden eagles are the star attractions, wallabies, eagle owls, otters, lemurs and marmosets are also must-sees on your trip! In June, the centre welcomed its newest additions – meerkats! These charming and sociable animals have proved to be a hit with visitors, and the centre is thrilled to be expanding its wildlife family.
The Scottish Deer Centre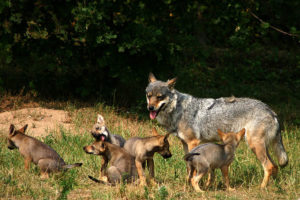 Just a little further south, the Scottish Deer Centre near the town of Cupar is boasts and incredible variety of deer and much more. The park is set it 55 acres of countryside, and is home to 14 species of deer from around the world, including the Chinese water deer and the reindeer. The centre is also home to many other animals, such as otters, several species of wildcats, and birds of prey such as raptors. What's more, it's home to Fife's only wolf pack! The dedicated team of handlers and conservationists offer trailer rides and guided walks around the park.
The Montrose Basin
If you continue your travels northwards alone east Scotland's beautiful coastline then you'll come to the town of Montrose. The Montrose Basin is a wildlife hotspot and is the place to be for any birdwatcher. The basin in a local nature reserve which boasts a total of 213 species of bird, including the pink-footed goose, knots, and redshanks. There are also a number of leisure activities on offer: you can take a guided tour around the basin, or try your hand at sailing or fishing.