The story so far of WL Sleigh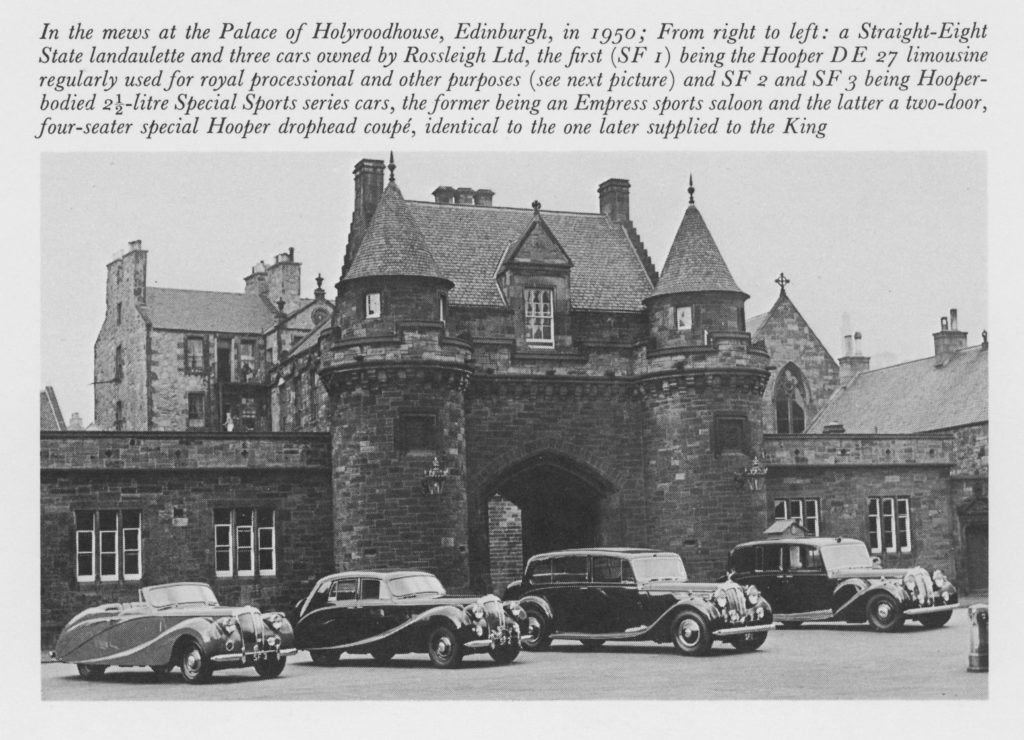 The Sleigh family name has been synonymous with the motor industry in Scotland since two friends, William Lowrie Sleigh and Thomas Fraser Ross left their jobs with the Post Office to sell cycles like the "Penny Farthing". They founded the Ross and Sleigh Cycle Company in 1889. By 1907 the company had changed its name to Rossleigh and had expanded to sell bicycles, motorbikes and cars. The company sold such classic car names as: Daimler, Lanchester, Humber, Riley, SS, Standard, Rover, Rolls-Royce, Bentley, Pontiac and Packard.
In the early 1970s the family lost control of Rossleigh due to a hostile takeover, so W. Lowrie Sleigh LVO founded W L Sleigh Ltd in 1974 to supply Scotland with the best quality Chauffeur Drive Service. Following the normal trail period Lowrie Sleigh regained the Royal Warrant he had held with Rossleigh in 1978 and in the same year was granted a Royal Warrant for the Her Majesty The Queen Mothers and then in 1980 HRH Prince Charles Warrant was also granted. The company is currently run by Lowrie Sleigh's son William L Sleigh having joined the company in 1992 under the watchful eye of his father. He became Managing Director in 1997 before his father sadly died in 1999.
W L Sleigh Ltd quickly gained a very high reputation throughout Britain based on the skills, knowledge and friendliness of its staff and has been involved in most of the local historic events that require transportation. These have ranged from supplying and coordinating over 200 vehicles for the European Heads of Government Conference in 1992, the return of The Stone of Destiny to Scotland in 1996, supplying and coordinating vehicles for the majority of countries that took part in the G8 summit at Gleneagles in 2005, The annual Lord High Commissioner's visit to the General Assembly of the Church of Scotland, various different country's official and unofficial delegations, Royal Visits, Local and National Government work and last but by no means least tourists from all parts of the world.
In 2000 William L Sleigh was extremely honoured to be granted three Royal Warrants as Motor Vehicle Hirer to the Royal Family in Scotland and became the local Edinburgh President of the Royal Warrant Holders association in 2002 which was Her Majesty the Queen's Golden Jubilee . The Family's First Royal Warrant was awarded to Sir William Lowrie Sleigh in 1921 as Motor Engineers to His Majesty King George V. Other members of the family have also been privileged to be grantees of Royal Warrants.
The Company continued to grow and was invited to join Virtuoso in 2002 as a Virtuoso On-Site for Scotland. With Virtuoso being a high quality network of the best travel agencies around the World we were very proud and quickly accept the kind invitation. As an On-Site we help plan all aspects of personalised guided tours of Scotland in our luxury fleet with our own driver/guides or with separate blue badge guides if required. We are currently the only On-Site that has its office headquarters and the only one that specialises on only Scotland.
The company's core business of chauffeur driven services range from executive and luxury cars for airport transfers, corporate and financial roadshows, conference transportation, personalised sightseeing tours of Edinburgh and throughout Scotland to Scottish weddings and special occasions.
In 2009, after 25 years of being based in Edinburgh's city centre, the company relocated its offices to a new, more practical location just 5 minutes from Edinburgh Airport. The company is going from strength to strength and is continually introducing different aspects to the business whether that is the latest luxury cars best suited for the wide varierty of services we supply, adding additional items for your clients like the option of luxury lunch hampers to enhance. We also regularly visit local hotels and are looking for new visitor attractions and hidden gems to give our clients the best Scotland has to offer. Although we do cover a lot of miles in our cars each year we are continuously working with Trees4Scotland to offset our carbon footprint by planting trees locally in Scotland for Scotland's future.