The Kelpies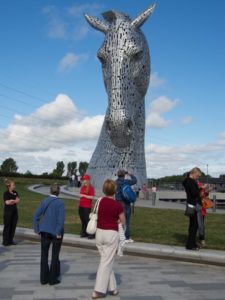 Today we are celebrating the one year anniversary of the opening of the Kelpies. For those of you who haven't visited these magnificent sculptures and don't know what we're on about, here's a little bit about them.
The sculptures were named after a mythological water-horse that was common in Scots folk lore. It was said that the water kelpies could take human form and had the strength of ten horses, and as such the sculptures are a reminder of the role that these beautiful animals played in shaping Scotland's landscape and economy. They were designed by sculptor Andy Scott, who said: "The original concept of mythical water horses was a valid starting point for the artistic development of the structures." "I took that concept and moved with it towards a more equine and contemporary response, shifting from any mythological references towards a socio-historical monument intended to celebrate the horse's role in industry and agriculture as well as the obvious association with the canals as tow horses."
These incredible sculptures aren't just culturally important, but they're also visually breathtaking. Each horse weighs 300 tonnes and stands at 30 metres of structural steal. Their construction on site remarkably only took five months, but the extraordinary process of creating each individual steal panel started years beforehand.
There is a visitors centre which beautifully reconstructs their design and development, and guides are on hand for tours as well. Part of a larger regeneration project called the Helix, the Kelpies and the broader sentiment of rejuvenation remind us of the past and celebrates the future. In any case, they're definitely worth a visit! If you want to learn more, here's a link to the visitors guide:
http://www.thehelix.co.uk/things-to-do/the-kelpies/