St Andrew: The Patron Saint of Scotland
In honour of the up-coming St Andrews Day celebrations (November 30th), our blog this week introduces you to the man himself. St Andrew, or Andrew the Apostle, lived in the town of Bethsaida, Israel the 1st century AD and was brother to St Peter. So how did this man come to be patron saint of Scotland, Barbados, Ukraine, Russia, Sicily, Greece, Cyprus and Romania?
Andrew was one of the twelve disciples, and spent much of his life as an itinerant preacher. According to the Chronicle of Nestor, he travelled around the Black Sea, and also journeyed to Kiev and Novgorod, Russia – hence, he became the patron saint of Ukraine, Romania and Russia. The apocryphal Book of Andrew also suggests that he travelled to Byzantium (Constantinople), Thrace (a part of modern-day Bulgaria, Greece and Turkey) and Achaia (part of Western Greece). He was known as a preacher of Christ throughout much of South-Eastern Europe!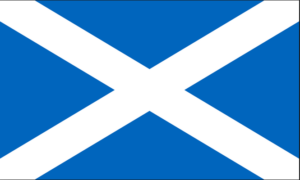 So why is he the patron saint of Scotland? Well, in the 10th century it was believed that relics of the disciple had been brought from Constantinople to the Scottish town of St Andrews. Legend has it that the Picts and Scots were to fight a dreadfully one-sided battle against the Angles (English). The Scots leader prayed and vowed that if by some miracle they won the battle then he would appoint St Andrew as their patron saint. On the morning of the battle, white clouds in the shape of an X appeared in the sky, and the Scots were victorious. To this day the Saint Andrews cross (or the Saltire) is a white X on a blue background.
So there you have it, the story of our patron saint! A little bit of Scottish history on a Tuesday morning.
Look out for our St Andrews Day celebrations on Sunday!