Outlander Filming Locations
This fantastic show has taken America by storm. If you fancy taking a trip to some of Outlander's most beautiful filming locations then keep reading!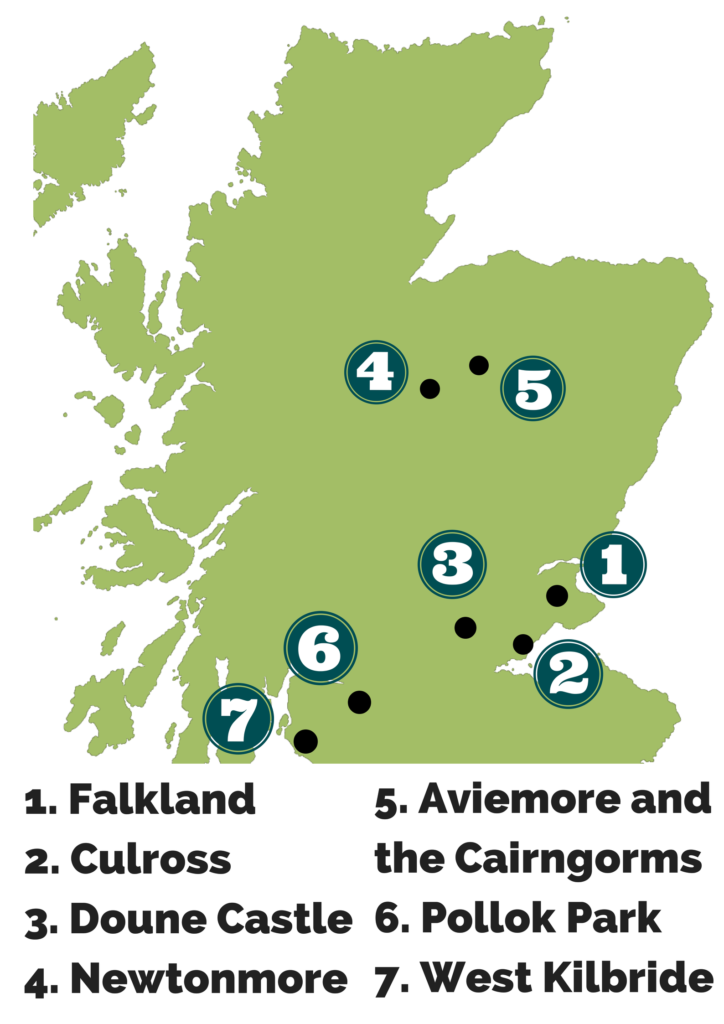 1. Falkland: In Outlander, the city of Inverness was actually filmed in the town of Falkland in Fife. This was the setting for the fictitious guesthouse where Frank and Claire stayed before exploring the highlands (the real Inverness is actually much further North).
2. Culross: The town of Cranesmuir was filmed in the tiny, rustic town of Culross, not far from Edinburgh. In the show, Cranesmuir (Culross) is close to Castle Leoch, where Claire gets medical supplies and where she meets Geillis Duncan.
3. Doune Castle: This stunning castle was built in 1400 and was the filming location for Castle Leoch, home of the MacKenzie clan. This may be surprising to viewers who might have expected Castle Leod, the real-life home of the MacKenzie clan and inspiration for Castle Leoch, to be the obvious choice for a filming location. However, today Castle Leod is a private residence and since its restoration it no longer suits Outlander's 1700s setting.
4. Highland Folk Museum, Newtonmore: This beautiful historical attraction was the filming location for the Scottish crofts where Jamie and Claire sought shelter in the very first episode. The Highland Folk Museum exhibits authentic 18th century buildings that have been reconstructed with great historical accuracy. The area was therefore a perfect location for the filming of many scenes in Outlander, and it was used to shoot the shelter scene in episode one, as well are doubling as Leoch village later on.
5. Aviemore and the Cairngorms: The Cairngorms national park, in particular the area around the town of Aviemore, sets the scene for the journey from Craigh na Dun to Castle Leoch. The stunning scenery here also features in the opening credits.
6. Pollok Park: This country park in the middle of Glasgow is where Claire searches for medicines and herbs to treat the sick. The 146 hectares of parkland also provides the filming location for the grounds of Castle Leoch later on in the series.
7. Hunterstone Mansion in West Kilbride: The beautiful Hunterston House was the chosen location for Reverend Wakefield's Rectory. It is here where, in the show, Claire had her tea-leaves read by Mrs Graham and Frank talks with the Reverend about their ancestors. Today, it is still the home of head of the Hunter Clan.