Famous Movies Filmed in Scotland: How many have you seen?
Have you ever watched a movie and been captivated by the scenery? There have been numerous movies that have been filmed in Scotland, and here's a quick list of some famous ones: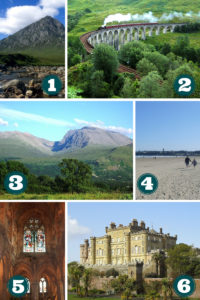 1. James Bond: In Skyfall, 007 returns to the Highlands with M in a scene which was shot in at the foot of Buachaille Etive Mor in Glencoe. In The Spy Who Loved Me, the naval base is actually Faslane naval base on Loch Gare, situated just West of the Loch Lomond and the Trossachs National Park.
2. Harry Potter (2002): The Hogwarts Express in The Chamber of Secrets is actually the Jacobite Train from Fort William. The stunning aqueduct they go over is the Glenfinnan Viaduct, and the beautiful locations around Hogwarts were all shot around Glencoe.
3. Braveheart (1995): Although some of the filming controversially took place in Ireland, much of the dramatic landscape you see in the film is Scottish. William Wallace's home village of Lanark, for example, was filmed in the Glen Nevis Valley, and the scene which follows Wallace's trek after the killing of Mornay was shot on a stunning mountain path which goes from Loch Leven to Glen Nevis.
4. Chariots of Fire (1981): The iconic scenes of this Oscar winning film were shot on the West Sands beach in St Andrews on the East coast of Scotland.
5. The Da Vinci Code (2006): The uncovering the last clue leads the characters to the magnificent Rosslyn Chapel, just South East of Edinburgh.
6. The Wicker Man (1973): This classic film was shot primarily in the Dunfries and Ayrshire regions. Lord Summerisle's mansion is actually Culzean Castle, a sixteenth century castle in Ayrshire in the West of Scotland.
Take a look at these other films you might have seen which were also filmed in Scotland:
Entrapment (1999): This multi-award-winning film was shot at the iconic Duart Castle on the Isle of Mull.
Monty Python and the Holy Grail (1974): The majority of this British comedy was filmed around Stirling, north of Edinburgh.
World War Z (2013): Despite being set in Philadelphia, zombies actually overrun George Square in Glasgow.
Captain America: The First Avenger (2011): Many of the opening scenes which were supposedly in Norway were actually filmed in Culross in the East of Scotland.
Prometheus (2012): A great deal of this movie was filmed on the island of Skye.
The Dark Knight Rises (2012): Bane's daring escape from one aircraft to another was filmed above Scotland's beautiful Cairngorm Mountains.