The road less well travelled – some lesser known places to visit in the Highlands of Scotland
If you want some more unusual places to visit then make for the Highlands. This massive area spreads north from Rannoch Moor and the Cairngorm National Park. With a stunning variety of landscapes from coastal waters through to mountainous terrain you are spoiled for choice when it comes to both wildlife and landscapes.
Smallest occupants?
Rannoch Moor is home to some rare species of ants. It is now one of the few remaining places in the UK to find the narrow-headed ant or Formica exsecta. You'll need to be pretty observant to find these residents!
Beinn Eighe
Looking for eagles or red deer? The reserve at Beinn Eighe has trails that can show you a diverse range of wildlife. With trails of different lengths, through woodland or up mountains there should be something that suits everyone. Start off from the Visitor Centre (open April to October) and learn more about the area before setting off.
Applecross
Applecross is a tiny fishing village and not easy to reach (there are only two roads in, one of them over the highest mountain pass in Britain – Bealach nam Bo) but definitely worth the trip. Once you arrive it almost feels as though you are on an island even though you haven't left the mainland. There are lots of walks around the area from easy ambles which will take you around half an hour to more challenging routes over the mountains. Once you return drop into the Applecross Inn for some excellent seafood from Applecross Bay.
httpv://www.youtube.com/watch?v=ybzZP2FdiXs
Upcoming Events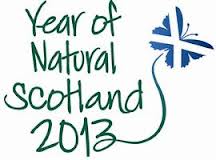 As part of the Year of Natural Scotland 2013 celebrations there are lots of events taking place. For
Ranger guided walks and events – download this booklet which gives details of a variety of events in the Highlands. You could also check out the Visit Scotland website for the latest information about different events around the Highlands and other areas of Scotland.
If you're keen to see some of Scotland's natural history on your visit to Scotland let us know where your particular interest lies and we can make sure that we include it in your itinerary. This is such a fabulous country and we would love to share it with you.